Buying vs. Leasing a Vehicle - Compare Your Options
When you're in the market for a new car, truck, SUV, or crossover, one of the most important decisions you need to make is whether you want to buy a new or used vehicle, or lease a new vehicle. At North Brothers Ford in Westland, MI, we know that whether you want to buy or lease a vehicle, it's a big investment. We want to help you understand the pros and cons of each option so you can make the right decision that best fits your auto needs. Not to mention, the vehicle you buy or lease will be one you drive each day, so we want to make sure you are comfortable with the choice you make on whether to buy or lease a vehicle by providing all the information you need to confidently make that decision.
Do you know whether you are going to buy or lease your next vehicle? If you haven't decided just yet, we've got you covered at North Brothers Ford. We've made it easy for you to understand all the basics of buying vs. leasing a car, truck, SUV, or crossover. In our Buying vs. Leasing Guide below, you can compare the facts, pros, and cons that each option offers. Before we get started, here are a few things you might want to consider first:
What will your vehicle be used for?
Type of vehicle you want
Daily commute distance
Driving habits
Your personal monthly budget
Maintenance costs
Each of these factors will help guide you through your decision on whether buying or leasing a vehicle is best for you. While we can't make the decision for you, the guide below that highlights the difference between buying and leasing will help you evaluate which option is right for your lifestyle. Remember, every situation is unique and should therefore be treated as such! While leasing might be right for you, it may not be right for another person. If you have any questions about whether to buy or lease a vehicle, give us a call at (734) 928-2108. Our team of knowledgeable auto experts at our North Brothers Ford Dealership in Westland, MI, is happy to help with anything you need, including weighing your options.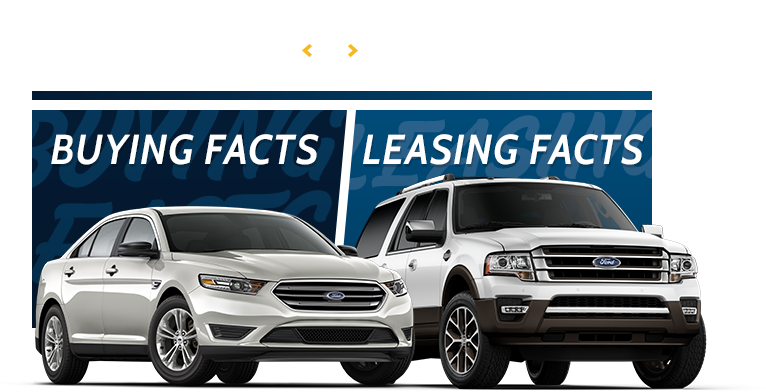 You drive only 1 vehicle for 60+ months
You can trade-in or sell your vehicle anytime
Maintenance must be covered by owner or warranty
No limit on milage driven
Buyer pays for the full cost of the vehicle
Monthly payments vary depending on down payment
Buying builds buyer's equity
You can drive up to 2.5 vehicles over 60 months
Lease price is based on percentage of vehicle cost & length of lease depending on down payment
Limit on milage driven
Lease periods can last 24-72 months
Monthly payments vary depending on down payment and APR
Minimal maintenance required



















The vehicle is completely yours after loan is paid off, may be more cost effective for some in the long run
No monthly car payments once the loan is paid off
Buy has ability to customize or modify vehicle
No mileage limits




Maintenance costs are sometimes included in lease
Drive a new car every 2-3 years
Possibility of lower monthly payments
You'll always have a new vehicle and the newest features
Lower up-front cost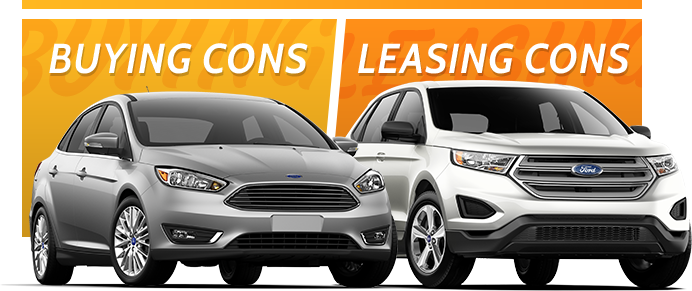 Monthly payments are typically higher
Down payment may be more expensive
Vehicle value depreciates quickly
Maintenance costs are your responsibility
Potential hassle to sell the vehicle later on
You're responsible for damages and wear
Early lease termination can be expensive
Restriction on miles you can put on the car; potential fees if you go over
You don't own the vehicle
You cannot customize the vehicle












Should You Buy or Lease a Vehicle? Learn More from North Brothers Ford in Westland, MI
We understand that deciding whether to buy or lease your next car, truck, or SUV is a big decision, so we have even more detailed information on how to buy a car or how to lease a car in the menu on the left of this page! It's our goal to provide you with thorough information on the auto buying process and auto leasing process so that you can feel comfortable and confident in whatever decision you make. If you're ready to start shopping for your next vehicle, check out our inventory online. We offer a vast selection of new Ford cars, crossovers, trucks, and SUVs, as well as a vast selection of used and certified pre-owned vehicles to choose from. North Brothers Ford is located at 33300 Ford Rd. Westland, MI 48185. We're proud to help our neighbors in Westland, Wayne, Novi, New Hudson, Wixom, Northville, South Lyon, and beyond find the perfect vehicle for their auto needs!
At North Brothers Ford we're here to help you throughout the entire process of buying or leasing a car, truck, SUV, or crossover. We want to provide a transparent and honest leasing or buying experience. As we are a family owned dealership, we value treating our customers like family and truly care about your experience with us. If you have any questions about whether buying or leasing is better for your individual needs, give us a call at (734) 928-2108. We're happy to answer any of your questions.